09mar11:00 am1:30 pmOrange County and Los Angeles Chapter WIC Week - Sharing Your Visions and Dreams
Event Details
  

The Proud Bird Food Bazaar & Events Center (map)
WIC Week: Many Paths, One Mission connects you to your personal success.
Join NAWIC Orange County and NAWIC Los Angeles as we create different conversations for you to engage in your personal goals and objectives. Our goal is to create a space where you can come and have a fireside chat conversation with your colleagues about your vision and dreams.
"Many Paths, One Mission connects you to your personal success" Join us as we create different conversations for you to engage in your personal goals and objectives. Our goal is to create a space where you can come and have a fireside chat conversation with your colleagues about your vision and dreams.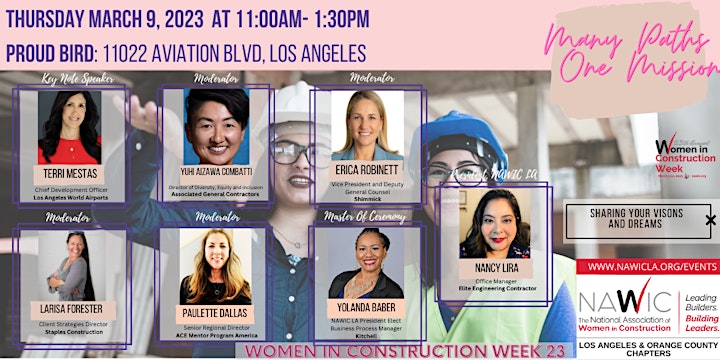 Key Note Speaker:
Terri Mestas is the Chief Development Officer for Los Angeles World Airports. LAX, the fifth-busiest airport in the world in 2021 with 48 million passengers, is in the midst of a $15-billion capital improvement program that will touch on all nine passenger terminals and build new facilities, including an Automated People Mover (APM) train, Consolidated Rent-A-Car (ConRAC) facility and the West Gates at Tom Bradley International Terminal under Ms. Mestas' oversight. LAX is part of a system of two Southern California airports – along with Van Nuys general aviation – that are owned and operated by Los Angeles World Airports (LAWA).
Ms. Mestas previously held the position of Senior Director for Capital Projects, Modernization, Planning, Design and Construction at The California Institute of Technology. She oversaw complex projects across 124 acres and other satellite locations. Ms. Mestas also held several positions for AECOM, including Vice President, Federal Market Sector Leader, Principal in Charge and Program Manager for two NASA centers and Program Manager for the Los Angeles Community College District bond program, the largest community college district in the country.
Yuhi Aizawa Combatti is the Director, Diversity, Equity & Inclusion (DE&I) for the Associated General Contractors of California (AGC of California), a membership organization that represents over 1,000 construction-industry companies. At AGC of California, Yuhi leads the development and implementation of DE&I strategy, initiatives and programs, including the Small Business Construction Expo (SBCX), the Small/Underrepresented Business (SUB) Forum and the DE&I Forum along with resources for companies to learn how to incorporate inclusion into everyday business practices.
Yuhi currently serves as the Vice President of Women in Construction Operations (WiOPS) Northern California Chapter. She previously served on the Advisory Council of Construction Industry Workforce Initiative (CIWI), a program dedicated to providing career development opportunities for students of color from lower-income households and as the Diversity & Inclusion Task Force Co-Chair for Society for Marketing Professional Services San Francisco Bay Area Chapter.
Moderator:
Erica Robinett is Vice President and Deputy General Counsel of Shimmick Construction Company, Inc. Erica brings more than 20 years of experience representing the business and litigation needs of construction clients in private practice before joining Shimmick 6 years ago as in-house counsel. She supports the legal affairs at Shimmick, ranging from corporate matters to pursuit and active project support, working closely with the operational teams, claims support, litigation management, legal risk management, employment matters, insurance, and surety. Erica brings significant experience supporting large general contractors in developing complex construction claims and working on multi-million-dollar litigation matters in public work and private construction. Erica also has extensive experience in a variety of transactional work, negotiations, business support, risk-mitigation measures and governance, and corporate management issues. Her broad expertise and breadth of experience supports Shimmick's development as a business, its operational streamlining, and its various business and legal needs. Erica received her law degree from the University of California, Hastings College of the Law, and her undergraduate degree from the University of California, Berkeley.
Moderator:
Larisa Forster, CPSMLarisa is known for embracing eternal positivity, new ideas, innovative techniques, diverse cultures, and constant growth. She uses these to lead firms in international client growth and market expansion. Driven to try new things and meet new people, Larisa has visited nearly a dozen different countries, and has lived and worked in a few of them. This cultural shift in approaches, processes and outcomes has not only expanded her cultural horizons but has made her much more adaptable in her strategy-building techniques and her ability to effectively communicate with a wide variety of personalities. After studying in a Côtes-d'Armor commune, painting in the Louvre, working in the shadow of the Eiffel Tower, establishing a city holiday, setting a Guinness World Record, creating new business development and marketing departments for growing design firms, opening a new office, and moving around the globe, she is always ready for another adventure.
Larisa is the current Foundation Champion and 2021 President of CREW Los Angeles and the Marketing Director for the National Association of Museum Exhibitions. She serves on the Steering committee for the National Association for Women in Construction SoCal WIC Week and the NAIOP Awards Gala, and is a judge for the Society for Collegiate and University Planning and the Society for Marketing Professional Services Marketing Communication Awards.
Larisa graduated from the University of Cincinnati with a Master of Science in Marketing, a Bachelor of Science in Architecture, a minor in French Language and Literature, and a certificate in Systematic Inventive Thinking. She also studied International Business, Architecture, and Art History at the American University of Paris.
Paulette Dallas is a Passionate Leader focused on building relationships, making connections, creating pathways and providing education/training for everyone. Strong believer in mentoring and raising up marginalized and underrepresented communities. Skilled in Nonprofit Organizations, Board Development, Startup & Expansion, Entrepreneurship, Brand Elevation, Workforce Development, Fundraising, Strategic Growth, Utilizing social media, and Special Event Management. Known for enthusiastically bringing out the best in every team and collaborating for winning solutions.
Master of Ceremonies:
Yolanda M. Baber., M.B.S. She is a construction industry professional with 24+ years of experience. Her engagement within the industry is unparalleled and she serves on four industry boards. Yolanda is an advocate of Kitchell's recruiting and talent acquisition efforts with an emphasis on diversity, equity, and inclusion (DEI) ensuring internal and external cross-culturalism across all Kitchell regions. She currently serves on board of the National Association of Women in Construction (NAWIC Los Angeles), and Society for Marketing Professionals (SMPS Los Angeles) and is currently serving as President of the Association of Society of Civil Engineers (ASCE San Bernardino Riverside). She currently serves on the Construction Management Association of America (CMAA SoCal) CODE Committee. The CODE committee is responsible for ensuring the industry's continued commitment to DEI initiatives, to promote, educate and develop values and work cultures that are welcoming and inclusive. Yolanda works closely with the leadership team by supporting all markets and is an active member of the communities we serve.
President of NAWIC Los Angeles Chapter 42:
Nancy Lira With her "can-do" attitude, Nancy shows enthusiasm and love for the construction industry. This attitude has served her well in the various roles she has performed throughout her 20 years. as well as in her role as mother to two children, Christian and Vivica. As office manager, she is responsible for overseeing payroll, labor, and US Dept. of Transportation compliance, accounts payable, monitoring project labor agreement and hiring requirements, mentoring subcontractors, acts as contract compliance administrator. Nancy has successfully built relationships with the public agencies, owners, subcontractors, labor unions, and government entities with whom she deals daily. She hopes to find ongoing and enhanced opportunities to influence women in the industry through her work and NAWIC board service.
Time

(Thursday) 11:00 am - 1:30 pm PST
Location

Proud Bird

11022 Aviation Blvd